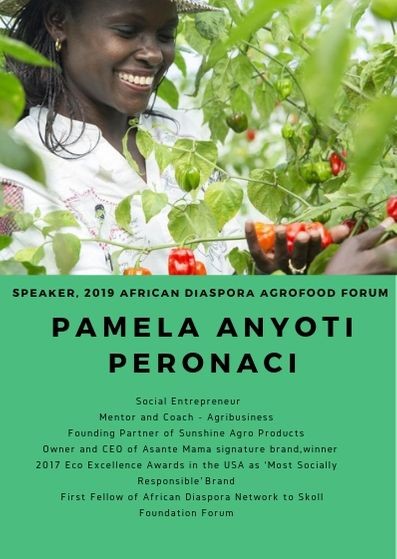 The registration is now open for the 2019 African Diaspora Agro Food Forum, holding from the 13th to 14th of September 2019 at the Bouchout Castle Meise Belgium. Some of our confirmed speakers include successful African Diaspora Entrepreneurs, African Ambassadors, BIO- Belgian Investment Company, Rikolto, Coleacp, Entrepreneurs for Entrepreneurs, FAO, Meise Botanic Garden and many more. The program's sub themes will be -
1) African diaspora agro food entrepreneurship, creating synergies for development
2) Accessing new Markets
3) A guided tour of the Meise botanic garden glasshouses focusing on tropical medicinal plants
4) Impactful investments; building and strengthening the African agrofood sector
5) Promoting African agrofood entrepreneurship; why scientific research input matters
Online registration can also be done via this link - https://forms.gle/1nbYSMXkqZg4oy9Z7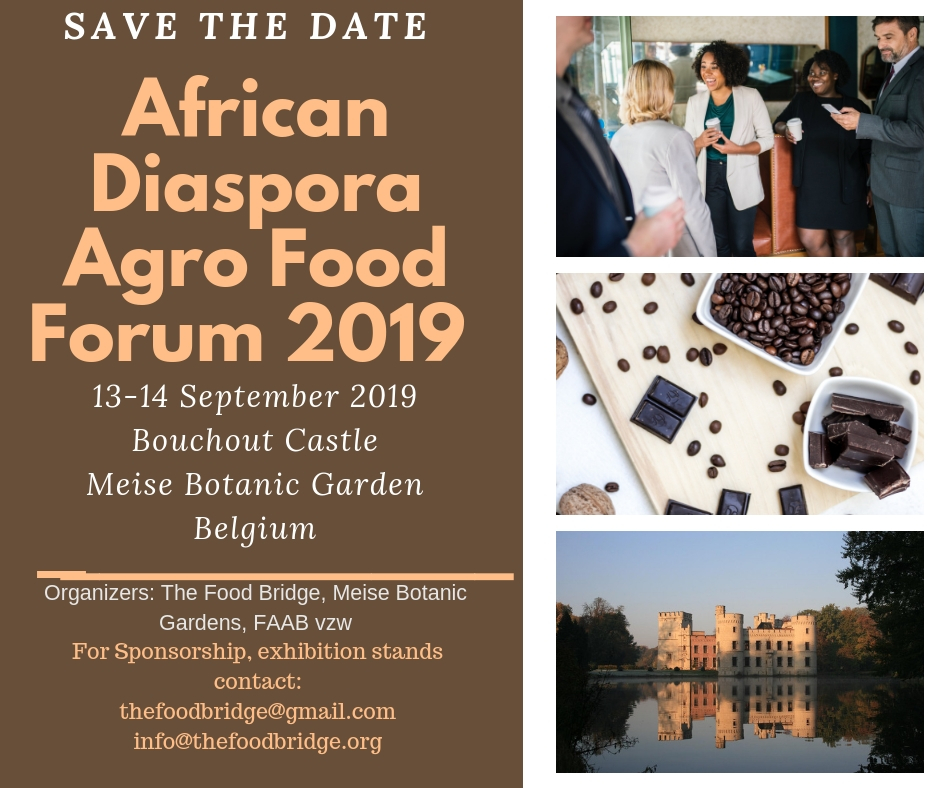 Theme: Entrepreneurship, partnership and impactful development
Organized by The Food Bridge vzw , Meise Botanical Garden, Faab vzw and other partners. The 2019 African Diaspora Agro Food Forum will hold from 13th to 14th of September 2019 at the Bouchout Castle, Meise Botanical Gardens Belgium.
African Diaspora entrepreneurship provides a huge opportunity for the sustainable development of Africa. With a fast growing population of young people, the economic dynamics in Africa needs to be strengthened, with the incorporation of diverse stakeholders and innovative tools in the agro food sector. The relevance of this sector in the development discourse is not debatable, thus ADAF 2019 is all about creating links to entrepreneurs, research, industry, markets and communities.
The second day of the forum will focus on promoting access to markets and partnerships. There will be exhibition stands for agrofood entrepreneurs and allied sectors. There will also be a guided tour of Meise botanical gardens for registered participants . This tour will focus on crops that are important to the African food system, some of which will also be served at the closing event dinner in the evening.
Target Audience:
African Diaspora entrepreneurs and startups
European agrofood SMEs looking for new markets and niches
Researchers and academics
Ngos and Communities
The Bouchout Castle will be the venue for the conference on the 13th of September and the closing dinner on the evening of the 14th September 2019. However, the Mabundu Glass house tropical gardens and the surrounding lawns will host the exhibitions on the 14th of September too.
For more details on sponsorship, partnership or exhibition stands, contact
The Food Bridge vzw
This email address is being protected from spambots. You need JavaScript enabled to view it.
This email address is being protected from spambots. You need JavaScript enabled to view it.
Upcoming Events
There are no up-coming events
The Helping Hand Project
In collaboration with Kwabre Ne Sekyere Belgium,Mfantesman vzw,Voice of Women International, Kente FM and other African organizations, we are organizing "The Helping Hand project",is an action started in 2016, aimed at feeding the homeless in the Brussels area. We are in need of volunteers to help with the cooking, packing and distribution of food to the homeless and needy. We are also still looking for sponsors for this project. We do not accept funds but prefer sponsorship in the form of donations of desired food items, food packaging materials. if you are interested in giving a helping hand, contact us on This email address is being protected from spambots. You need JavaScript enabled to view it.