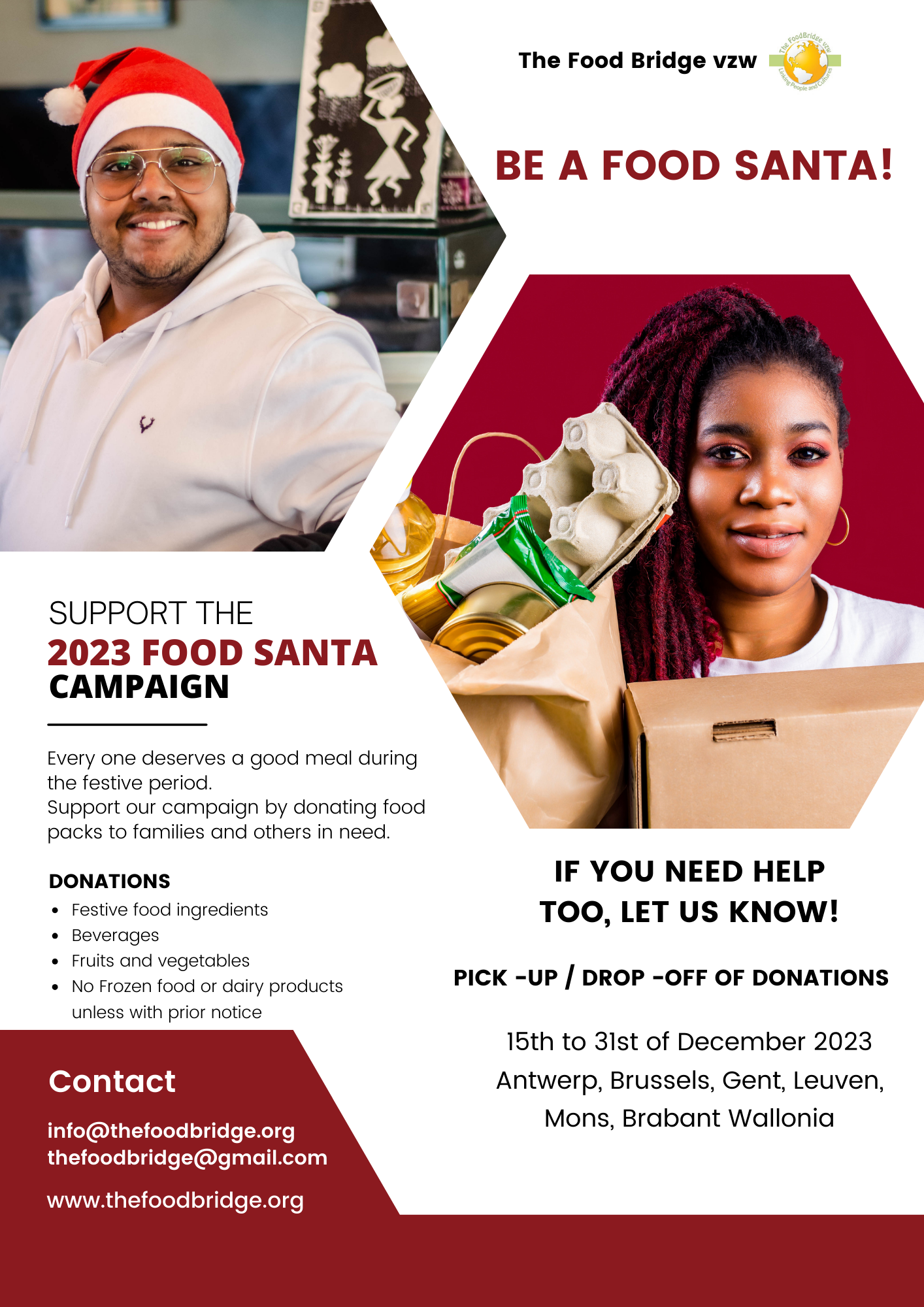 The aim of the Food Santa Campaign is simple yet impactful, ensure less people go without food during the seasonal holidays and celebrations. The Food Santa Campaign is an initiative of the Food Bridge in Belgium. We call on individuals, companies and organizations to play the role of "Food Santas" by organizing food drives or by donating non-perishable food items to needy families. The Food Santa Campaign runs from the 15th to the 31st of December 2023.
The success of initiatives like the Food Santa campaign depends on the collective effort of the volunteers, communities and individuals that want to make a difference. By actively participating in the campaign, individuals, companies and organizations can provide essential sustenance to those who need it most and also foster a sense of unity and empathy within the community. This renforces the idea that no one should go hungry, especially during a time when abundance is celebrated.
As we approach the festive season, let us remember the true essence of giving and come together as a community to combat hunger. Initiatives like Food Santa serve as an example of the difference we can make, when people unite for a common cause. By donating food to the needy, we not only help achieve the global SDGS goal of zero hunger but also create a legacy of compassion and unity that will resonate with everyone. This holiday season, be the Food Santas that positively impacts the lives of those less fortunate.
If you or someone you know also needs some food during the holidays season, do not hesitate to contact us. it will be treated confidentially.
For all inquiries - This email address is being protected from spambots. You need JavaScript enabled to view it.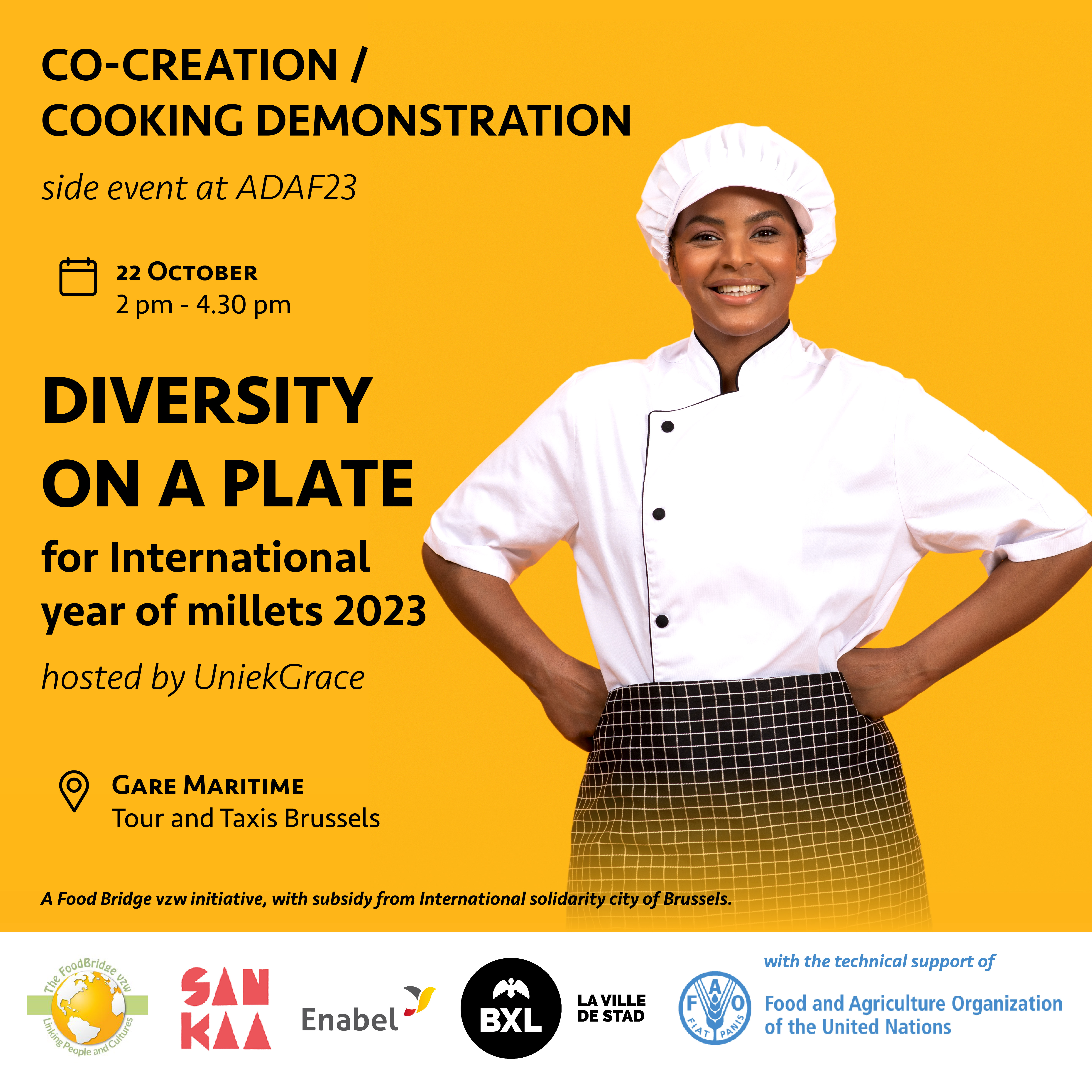 As part of the side activities at the 2023 African Diaspora Agrofood Forum, the Food Bridge vzw in collaboration with FAO Brussels office, Enabel and Sankaa vzw will be organizing a program 'Diversity on a plate' in celebration of the International Year of Millets. This program is funded by the International Solidarity of City of Brussels.
Millet is a healthy, indigenous grain that is a staple in many African countries. During the program there will be an information session by FAO and then a co-creation of recipes by Chefs and cooks of different origins. Participation is free but you need to register by sending an email to This email address is being protected from spambots. You need JavaScript enabled to view it.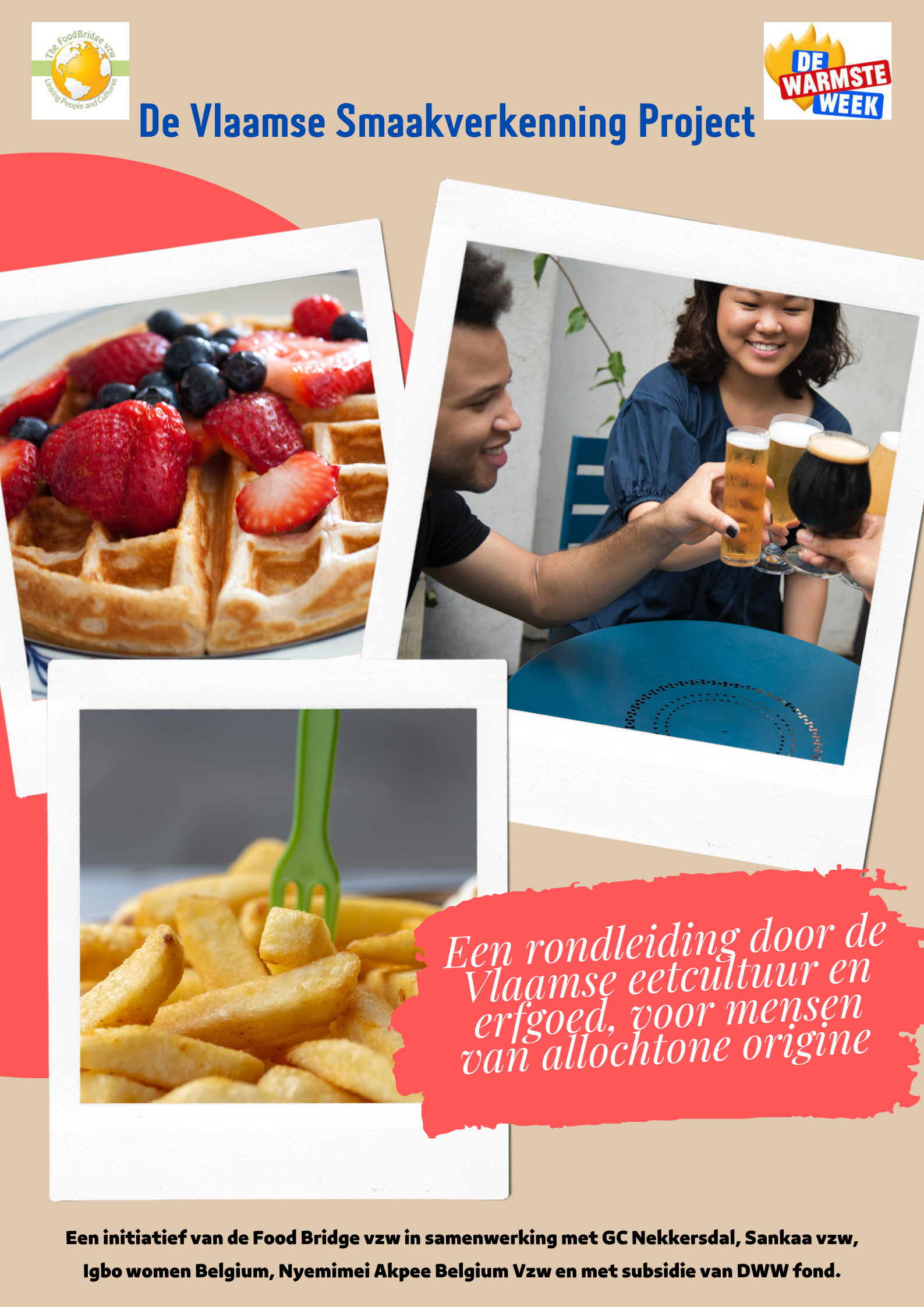 The Food Bridge in collaboration with Sankaa vzw, GC Nekkersdal and other partners, is starting a new project in May 2023. 'Vlaams Smaakverkening' focuses on exploring the Flemish food heritage with women and young children, from underprivileged families and communities.
Many people from underprivileged communities, have limited resources to go on vacation. When some manage to go on vacation, they do not have enough resources to participate in cultural activities focusing on food cultures and heritage. The Food Heritage and culture of a people, can help one understand who they are, their history, beliefs and values.
Since food can be a key tool for creating intercultural knowledge, our aim is to offer these women and children (many of who are of migrant origin), the opportunity to have a better understanding of the Flemish culture, history and tradition through food.
This project is not just for playful activities. There is an important connection between people's food cultures and their sense of identity. Therefore, it is important to help those from diasadvantaged communities, understand and appreciate Flemish food and cultural heritage. The knowledge and social interaction,will also further validate their place as members of the Flemish community.
All the activities of this project will be in Dutch and the project is subsidized by 'De Warmeste Week' funds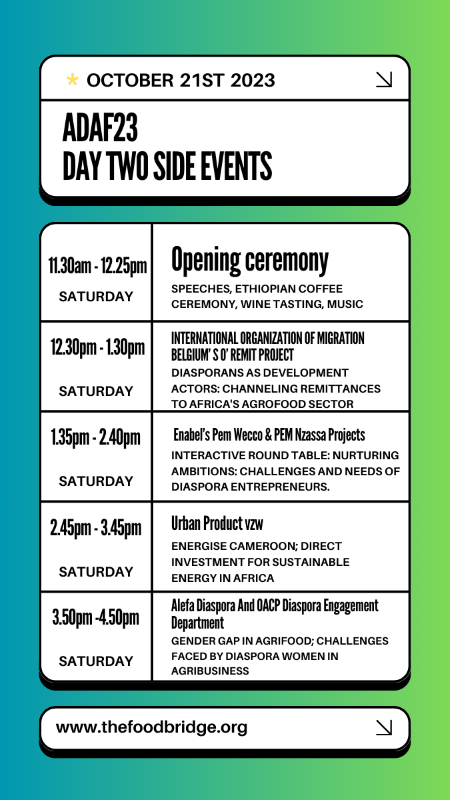 On the second day of the 2023 African Diaspora Agrofood Forum, amidst the diverse array of exhibition stands showcasing innovative food products, sustainable practices, and culinary delights, our partners will be organizing side events and discussion panels relevant to the theme of the forum.
The aim of these side events is to diseminate relevant information in an inclusive way and have participants engage in dynamic conversations on topics relevant to the growth of the African Diaspora entrepreneurship ecosystem. This is an opportunity to be informed about the most pressing issues facing the African Diaspora agrofood entrepreneurs.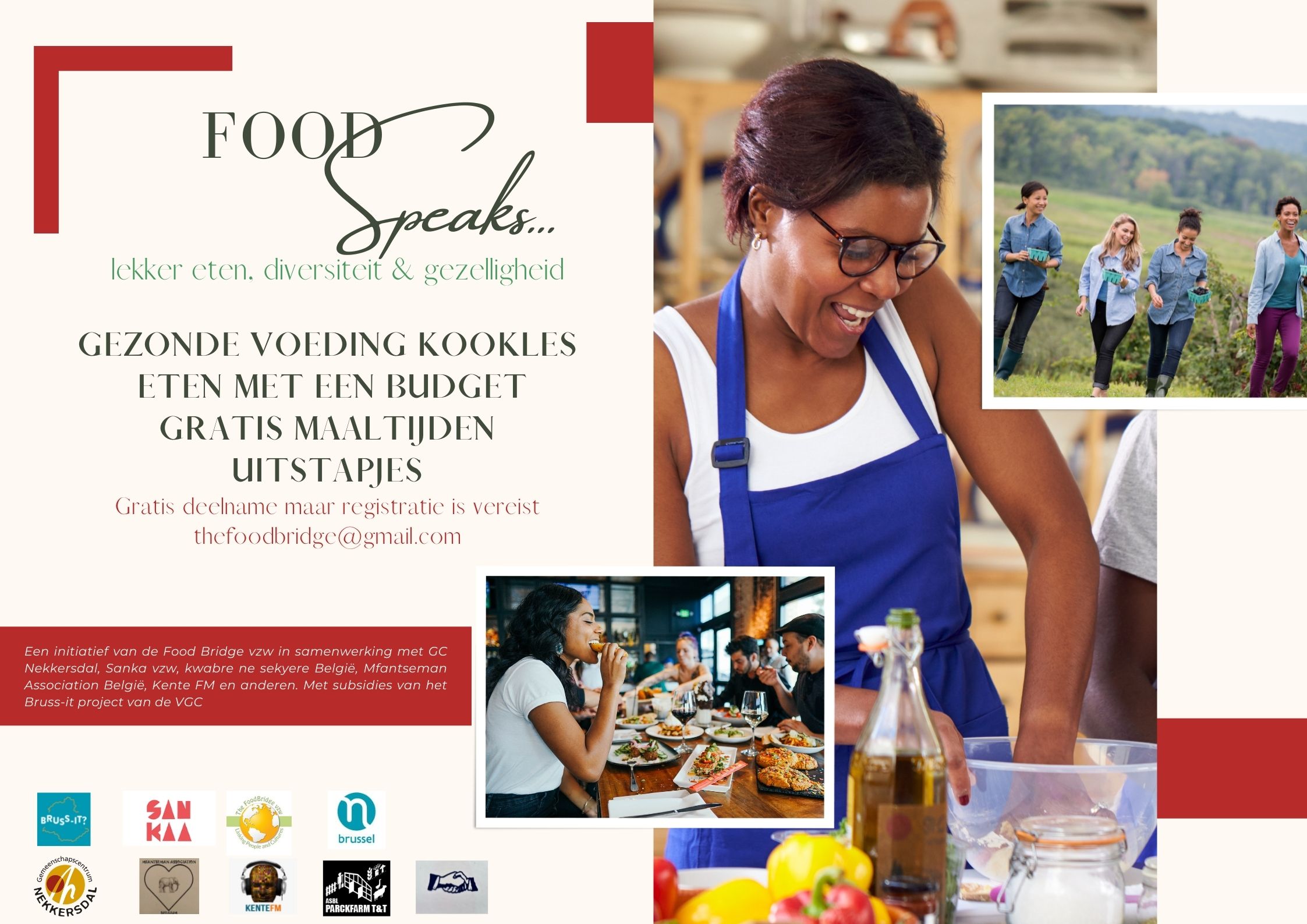 The Food Bridge vzw has a new project in Brussels.The 'Food Speaks' project relects food's ability to demonstrate and mitigate different human circumstances. This initiative will offer a 3-fold program.
- Culinary classes focusing on planning and cooking healthy food on a budget, with input from cuisines from different cultures. Some lessons will also focus on safe and easy ways to store extra food, especially fresh produce, to avoid waste.
- By choosing healthy recipes from different cultural communities in Brussels, it will also be an opportunity for cross-cultural interaction and knowledge sharing.
- It will also provide information on cost-effective or alternative ways to get healthy ingredients and food, including a list of affordable Brussels street markets that sell fresh produce. This will help people feed themselves well on less while supporting local entrepreneurs. There are now many people who, although working, are still struggling because their income has decreased due to the pandemic. This initiative will provide them with assistance and information in a dignified and friendly manner.
Participation is open to the public and during each session we will also serve free meals to people. All recipes will be collected, printed and distributed through various networks and partners.
Funded by the Brussels Flemish government's ' Bruss-it' project. 'Food Speaks' is an initiative of the Food Bridge vzw in collaboration with GC Nekkersdal, Sanka vzw, kwabre ne sekyere Belgium, Mfantseman Association Belgium, Kente FM and other partners.
Contact for inquiries
Food Bridge asbl
This email address is being protected from spambots. You need JavaScript enabled to view it.
This email address is being protected from spambots. You need JavaScript enabled to view it.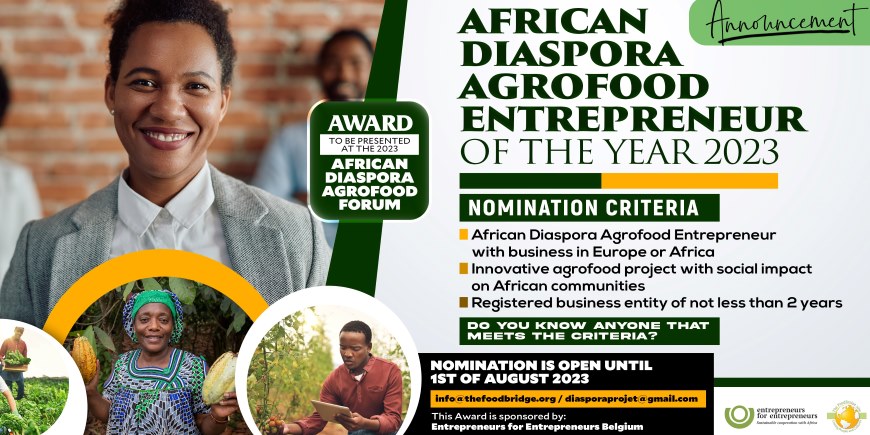 Many entrepreneurs from the African Diasporas are contributing to the development of the agrofood sector, through innovative projects with social impacts in their countries of origin and residence. In recognition of these contributions, the African Diaspora Agrofood Forum has dedicated an award in honour of worthy African Diaspora Entrepreneurs. This award is sponsored by Entrepreneurs for Entrepreneurs Belgium(OVO).
The award is for African Diaspora Agrofood Entrepreneurs in Europe. Nominations can be sent to the Food Bridge and all nominees will be contacted with additional information.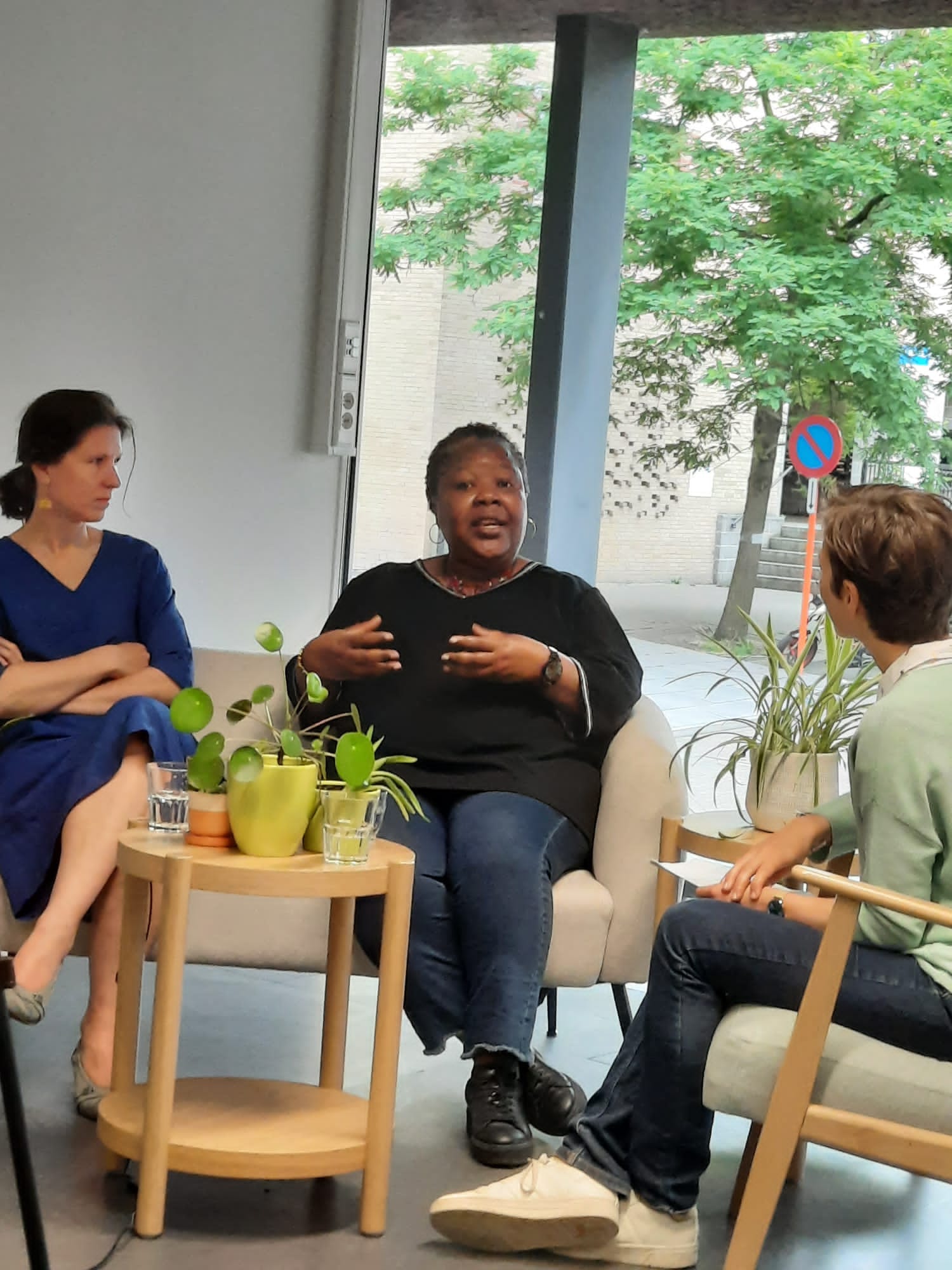 Dr Maureen Duru, Founder / Director of the Food Bridge vzw was the guest speaker at Business Breakfast Podcast an initiative of the Business studies department of Arteveld University Gent. The session focused on the university's research project on African Diaspora Entrepreneurs in Belgium. The research confirmed again some of the major challenges always highlighted by our organization especially access to resources and support for African Diaspora Entrepreneurship.
A very important point raise by one of the researchers Dr Marie Gildemyn is the lack of African Diasporas on the boards or as staff of organizations supposedly supporting entrepreneurship for Africans. Many of the decision making processes by agencies have little or no input from African Diasporas too. However, the potentials of African Diasporas as development agents and innovators in the African private sector is evident. To read more about the research by Arteveld university , here is the link - https://www.artevelde-uas.be/projecten/african-diaspora-starting-africa-mapping-start-ecosystem-and-needs-among-african-diaspora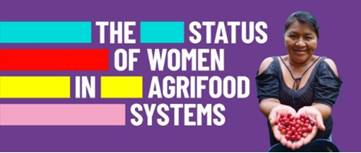 On the 8th of June 2023 at the Residence palace Brussels, the FAO will present its report on the Status of Women in Agrifood Systems. In Africa and many developing countries, women are the backbone of the agrifood system yet benefit the least. This FAO Report provides the latest data, lessons learned and recommendations for policy and decision makers in relation to gender in agrifood systems.
Experts and dignitaries that will speak at the event include Máximo Torero Cullen, Chief Economist FAO, Caroline Gennez Minister of Development Cooperation Belgium, Carla Montesi Director Green Deal and Digital Agenda, European Commission (DG INTPA). The Founder of the Food Bridge Maureen Duru, will be a speaker in a panel moderated by Camilla Brückner Director, United Nations in Brussels. The other panelists are Lydia Mutyebele Ngoi Alderwoman for Housing, Public Heritage and Equal Opportunities, City of Brussels, Dirk Jacobs Director General, FoodDrink Europe and Lauren Phillips Deputy Director, FAO Division for Inclusive Rural Transformation and Gender Equality.
Registration is still open for the event. For more details - https://newsletters.fao.org/q/16vtU8e10aq/wv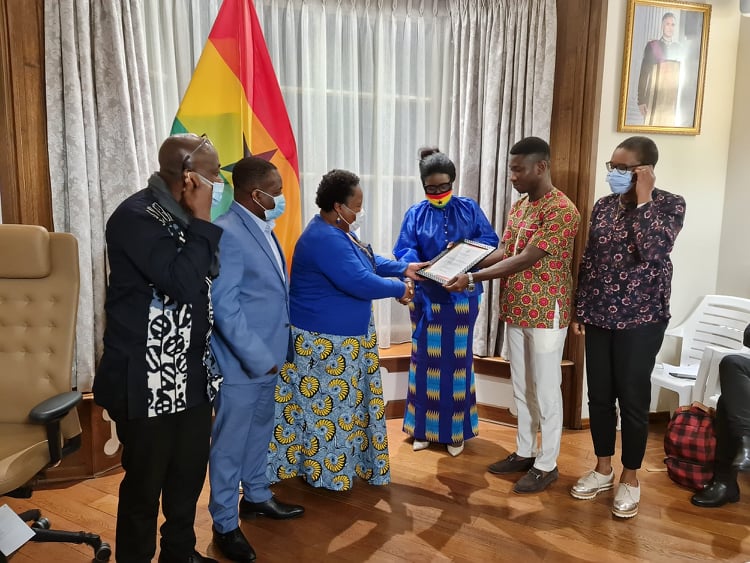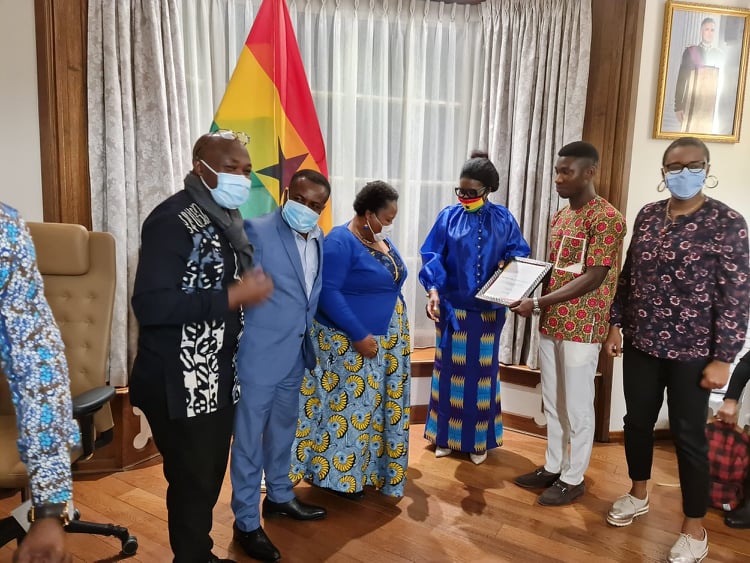 The Food Bridge's Helping Hand Project received an award from the Ghanaian students union Belgium on the 27th of November 2021. According to Mr Erasmus, the student union's outgoing president , the award is in appreciation of the weekly food donations given to African students in Belgium during the covid pandemic lockdown.
In her speech the Ghanaian ambassador to Belgium, Luxembourg and the EU, Her Excellency Mrs Siaw-Boateng, commended the Food Bridge for their work and encouraged them to continue with the good work they are doing supporting the students and community. She also emphasised the embassy's support for Ghanaian students, informing them of available services and encouraged them to adhere to the covid protocols.
In her acceptance speech, Dr Maureen Duru of the Food Bridge vzw, thanked the students for the pleasant surprise. She mentioned that the Helping Hand's campaign which benefitted the students was with the support of dedicated partners, donors and volunteers. She acknowledged the special role of King Baudouin Foundation and Sankaa vzw, in making the campaign a success.
Dr Duru further informed the students that those of them without food during the festive period, can always send a request to the Food Santa campaign, which starts on the 15th of December 2021.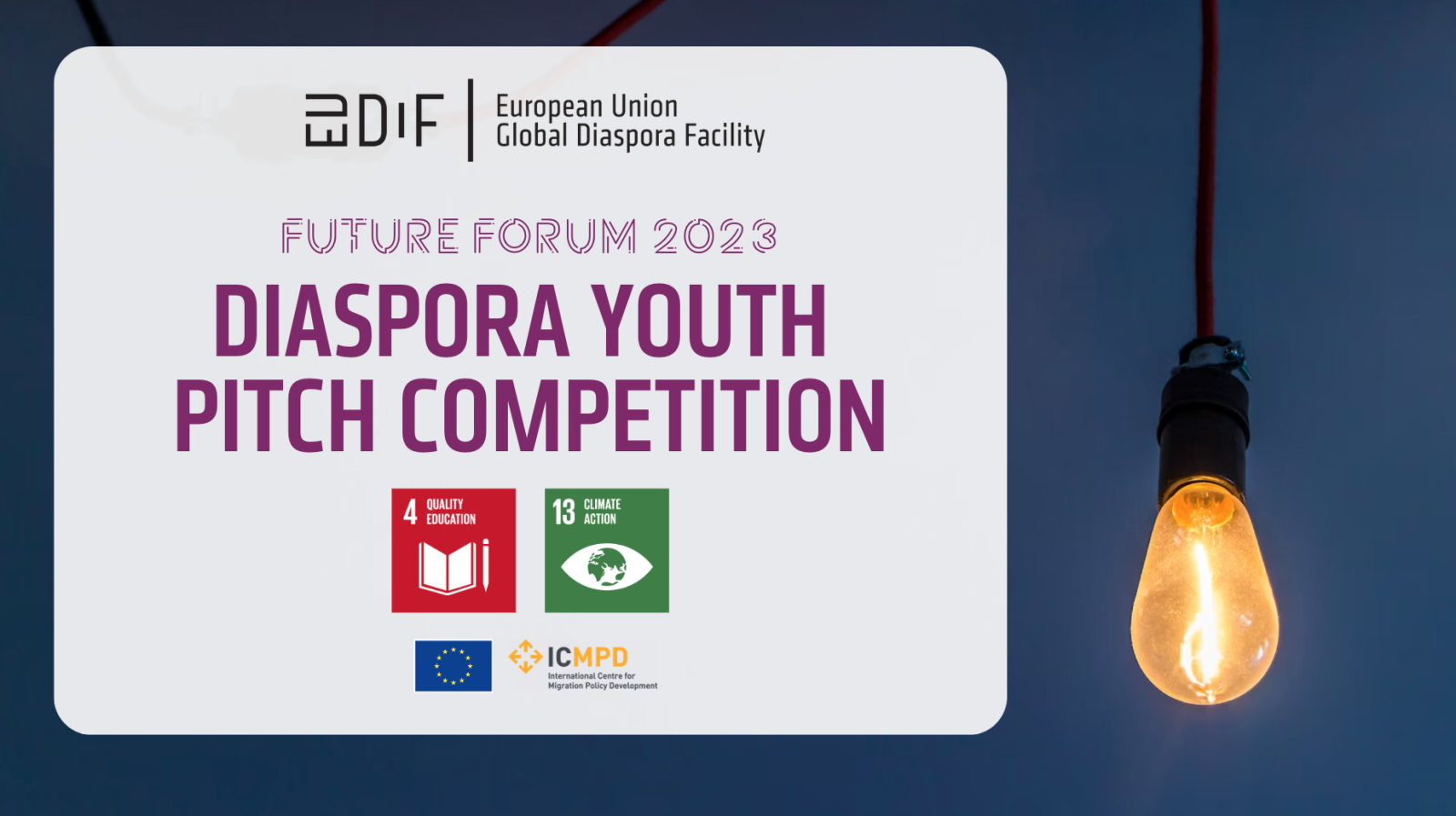 As part of it's annual Future Forum, the European Union Diaspora Global Diaspora Facilty has launched a Diaspora Youth Pitch Competition . Youth diaspora-led organisations in Europe are invited to submit development-oriented ideas that takes adavantage of innovative diaspora partnerships, to address SDGs 4 and/or 13.
The selected six finalists will be given one-to-one coaching, to help them refine their pitch and they will also be sponsored to attend the Future Forum in Brussels on October 17-18. This event is also an opportunity for the youth organisation to gain exposure and to network.
The three winning ideas will receive prize money:
1st prize: €3000
2nd prize: €2000
3rd prize: €1000
For more details - https://diasporafordevelopment.eu/diaspora-youth-pitch-competition-apply-now/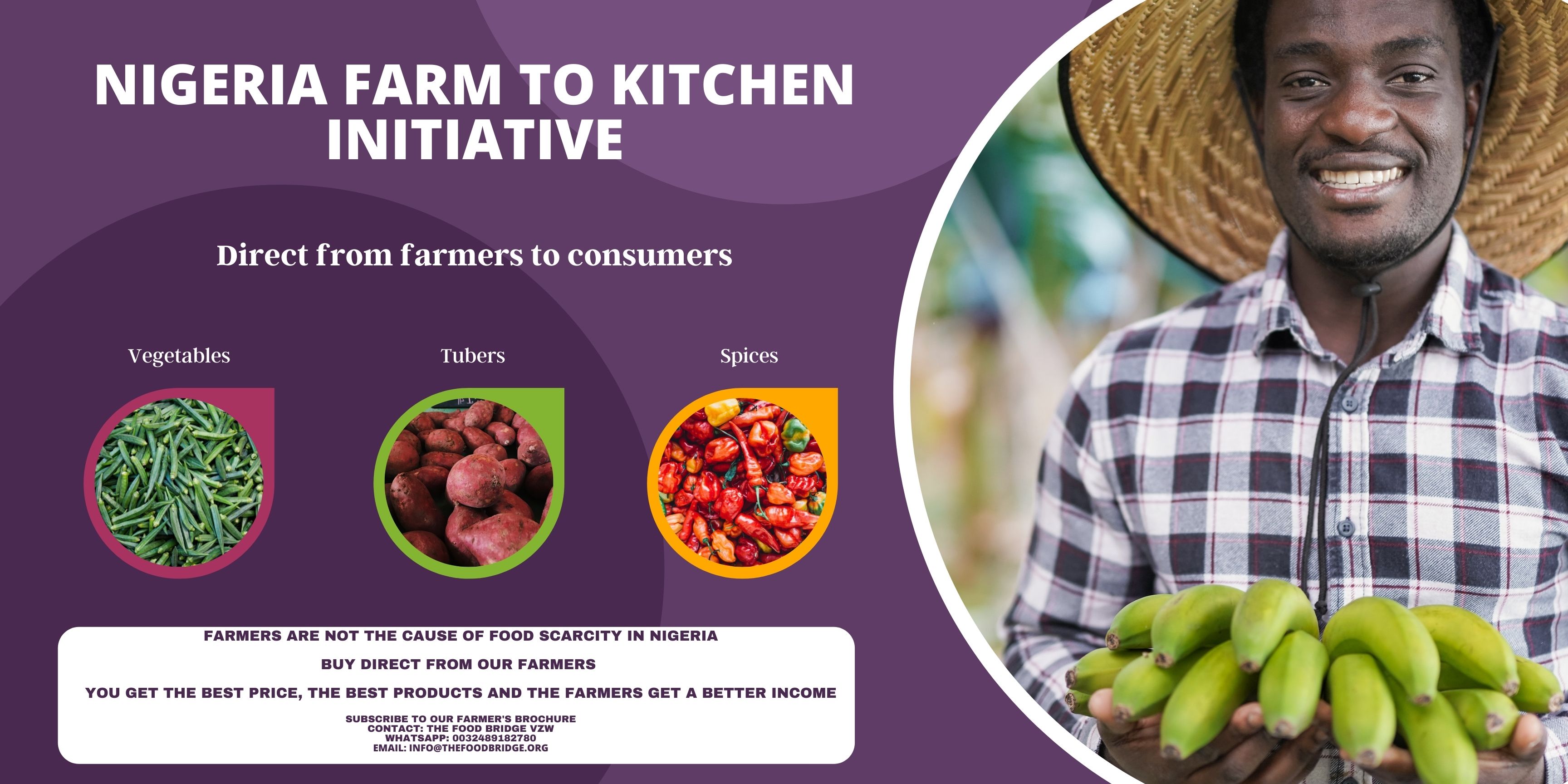 Over the past year, the Food Bridge vzw and its partners have been organizing training and seminars for Nigerian farmers. Despite the rising cost of food in the country, the income of majority of the farmers remains the same. Thus we have started a new intitiative that will link farmers directly to consumers. Our aim is to offer farmers trained in our programs an opportunity to sell directly to consumers; many of who are looking for safe and affordable food.
For more details contact This email address is being protected from spambots. You need JavaScript enabled to view it.