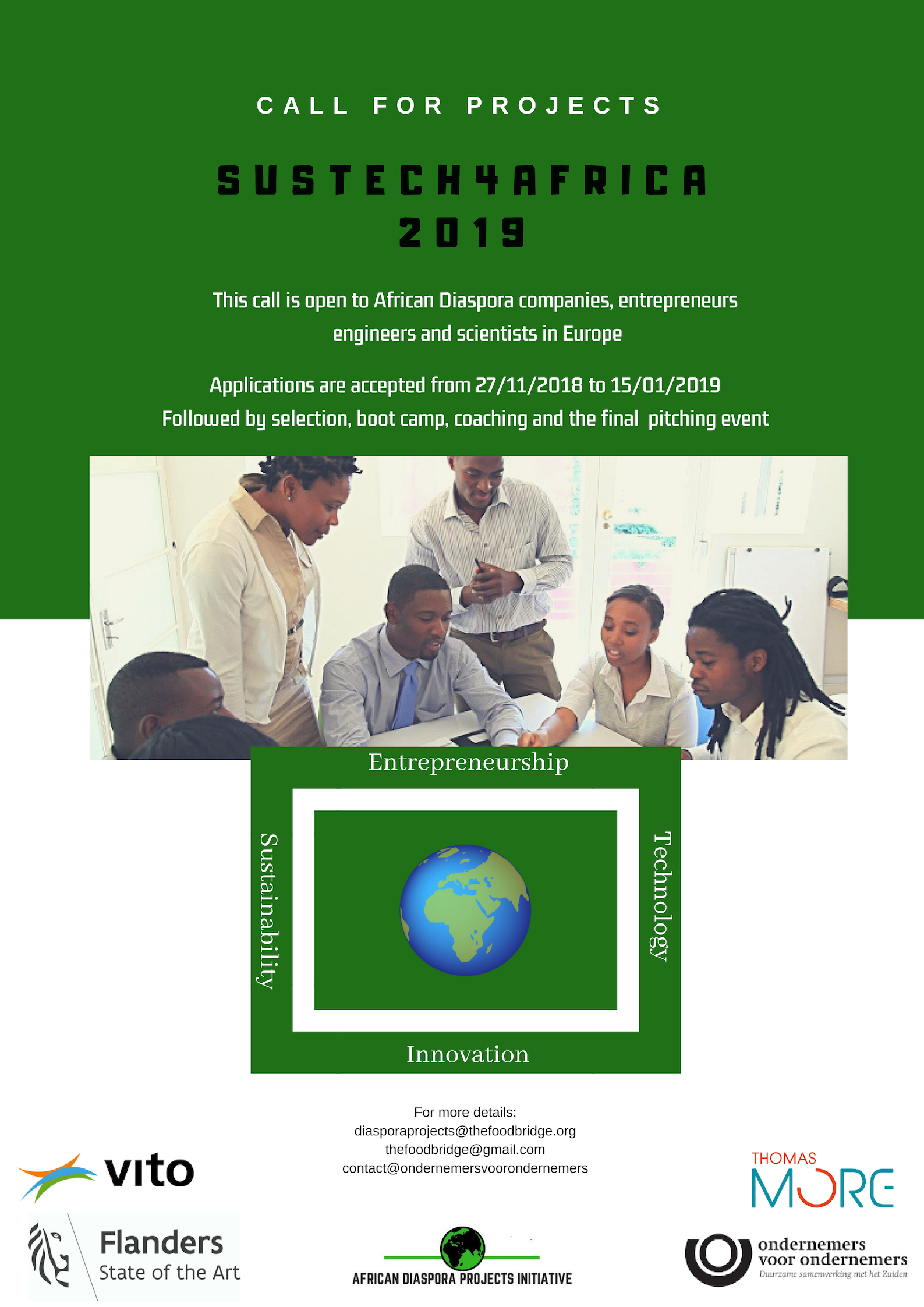 The application for the Sustech4Africa 2019 call for projects is now open. This call for projects organized by African Diaspora Projects Initiative, Entrepreneurs for Entrepreneurs vzw (Ondernemers voor Ondernemers), the Vlaamse Instelling voor Technologisch Onderzoek (VITO nv) and Thomas More University, will be open for applications from the 27th of November 2018 to 15th of January 2019.
Register - https://goo.gl/forms/MWA1D7d91YSUnXL03
Supporting social entrepreneurship with sustainable projects, is important for the development of Africa. Thus we intend to use the interconnections of African diaspora communities, to insure the best entrepreneurial projects are chosen. This call is open to African Diasporas in Europe. The first selection of candidates for this call for projects will be on the 12th of February 2019 from 10am to 5pm. A maximum of 30 project owners will be invited to present their projects. A jury will select 10 out of these for further collaborations.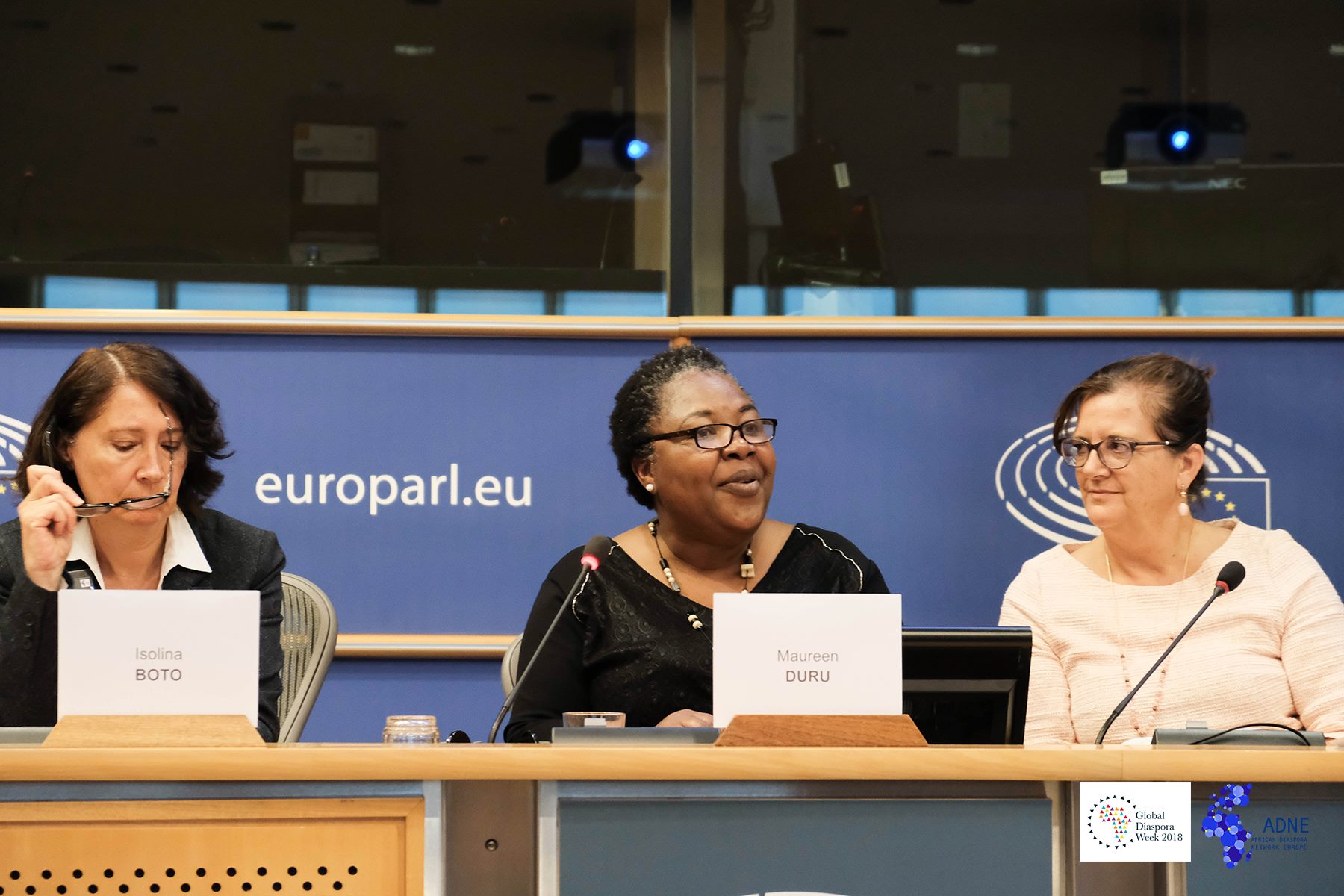 The founder of the Food Bridge vzw was a speaker on the panel that discussed 'Diaspora innovations for agricultural productivity and sustainability ', at the opening event of the global diaspora week 2018,held at the European parliament Brussels. Other speakers on the panel included
Moderator: Mrs. Marina Diboma, Deputy Managing Director of NABC
Mr. Patrick Gilabert, Permanent Representative of UNIDO to the European Union
Mrs. Christine Leurquin, VP Institutional Relations and Communications at SES Satellites
Mrs. Oladunni Stähler, Chapter Lead Germany, Women in Tech Africa
Mrs. Isolina Boto, Manager of Brussels Office at CTA
Mrs. Irene Salvi, Results Measurement and Fundraising at UNCDF
M. Myrto Arvaniti, Communications officer, FAO Liaison office with the European Union
The Francophone Africa Business Forum is coming up on the 19th of June 2018 at the Hague Netherlands. Over 150 agri-entrepreneurs from Francophone Africa will attend the FAB Forum and also are looking for expertise, equipment, seeds, cold stores and other business opportunities. The full list of companies is available on the fabforum.eu website.
There will be different workshops and experts sharing their insights from different agribusiness sectors. More information is on the organizer's website
Following recommendations from the African Diaspora Agro Food Forum 2018 and a workshop at Tropentag 2018, which focused on African Diaspora food market and linking African Diaspora agro food entrepreneurs to research and SMEs, The Food Bridge is setting up a database of African Diasporans active in the agro food sector .
This is neccessary for creating the right synergy, to galvanize an integrated approach to African Diaspora input in the development of the agro food sector. Links between research and entrepreneurship will be better put into optimal use. it will also enable dialogues between the different African Diasporas in this sector and also with governments, global agencies, NGOs, policy makers working towards a sustainable development in Africa.
Register here: https://goo.gl/forms/feyvBBC8SFgTtSNn2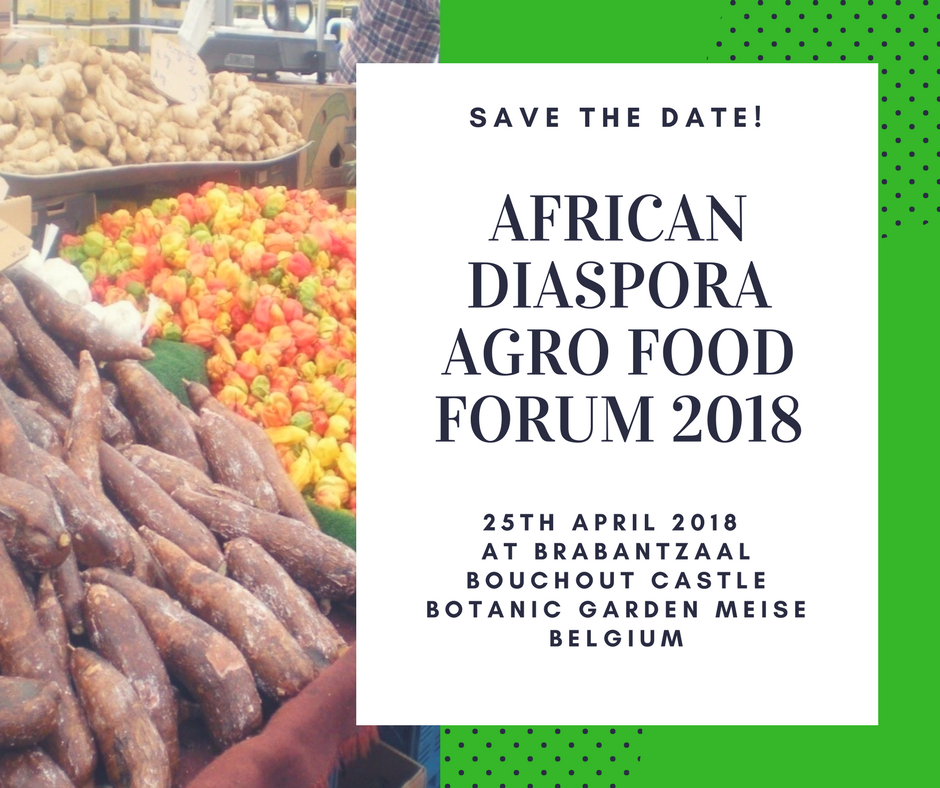 The African Diaspora Agro Food Forum 2018, will be coming up on the 25th of April 2018 at the Brabantzaal, Bouchout Castle Botanic Castle Meise Belgium.
The 2018 Amsterdam symposium on the history of food will be on the 16th and 17th of November 2018. This year's theme is - Body and Soul: examining the historical relationship between nutrition, health, and culture.
Find below the conference abstract from the event page - https://www.aanmelder.nl/ashf2018
"The act of ingestion ensures our intimate relationship with food. This literal 'incorporation' has implications that go far beyond basic physicality: it is precisely in the corporeal sphere that the cultural significance of our food habits is on display. Crucial to the connection between food and body is the concept of control. State institutions, medical professionals, and spiritual teachers have prescribed and proscribed dietary behaviour, exercising what Michel Foucault has termed 'biopower', in an attempt to regulate the nourishment of populations. Such nutritional advice has often been a form of moral guidance: to authorities like doctors and religious leaders, public health was a medical and an ethical issue. Corporations have made similar persuasion efforts, often aided by health gurus and sportspersons – from 19th-century fruitarians to 21st-century Instagram influencers advertising their 'killer' bodies. By conceptualizing the body as a machine in need of 'input', they increasingly sold consumers the prospect of total control over their health and wellbeing.
Yet the public has the agency to modify and contest existing food regimes. By narrativizing the fundamental everyday practice of food consumption, individuals fashion eating – and not-eating – into a performance, thereby inextricably linking these acts to personal identity. Their pursuit for healthy and inspiring lifestyles can lead to greater self-care, but can also encourage problematic body/food mindsets, such as anorexia or orthorexia. No wonder that, since ancient times, the notion of a powerful connection between psychological and physical health has been deployed by spiritual leaders to promise audiences control over their desires and appetites. Hence it is especially in the context of the body that the cultural relevance of food can be explored".
Venue: Aula of the University of Amsterdam
Singel 411, 1012 XM Amsterdam.
Price:
Early Bird (until 1 september): 75 euro
Regular: 90 euro
Student: 45 euro
Friend of the Special Collections of the University of Amsterdam: 40 euro
A Workshop on 'Edible insects for food, feed and food security', is being organized in collaboration with the Royal Museum for Central Africa, Meise Botanic Garden and BigPicnic on the 20th of March 2018. (program included).
Apart from staff from the Botanic Garden, the Africa Museum and also RBIN (Royal Belgian Institute for Natural Sciences), we hope to reach people and organisations from the African Diaspora community, as the workshop will be focusing on both the Belgian and the African context, with as much interaction and exchange of knowledge as possible.
The workshop will take place in the CAPA-building (3rd floor, room 33), Leuvensesteenweg 17, Tervuren.
The programme:
13:00 – 13:30 Welcome. B. Verbergt, Operational Director Public oriented services, Royal Museum for Central Africa.
13:30 – 13:45 Regulations concerning production, processing and use of edible insects. Speaker to be decided.
13:45 – 14:15 Possible methods for discrimination of insects versus marine arthropods in processed animal proteins. Pascal Veys, CRA-W.
14 :15 – 14 :45 Presentation of RMCA projects on edible insects in Africa. Patricia Mergen, Royal Museum for Central Africa.
14 :45 – 15 :15 Break with insect tastings.
15 :15 – 15 :45 : Meise Botanic Garden and the BigPicnic project: edible insects, consumers acceptance and food security. Jutta Kleber, Meise Botanic Garden
15 :45 – 16 :30 Science café on edible insects for food security
Registration is now open for the 2018 Global Diaspora week opening ceremony, which will be held at the European parliament in Brussels Belgium. Organized by the African Diaspora Network Europe (ADNE) and partners. This year's theme is "#Digital #Diaspora: Boosting the Digital Agenda and #Innovation in Development". This event will hold on the 5th of October 2018. Here is a link for more details -http://www.globaldiasporaweek.eu/

The application is now open for the 2018 call for projects on "Sustainable Technologies for Africa". Entries will be accepted from 1st February to the 2nd of March 2018. This is an initiative of Ondernemers voor Ondernemers,The African Diaspora Projects Initiative and the Vlaamse Instelling voor Technologisch Onderzoek (VITO).
Here is a link to the online application form - https://goo.gl/forms/ETFNOiajbB60UWO42