Written By Jashan Sippy
In 2022 the Food Bridge's African Diaspora Agrofood Entrepreneur of the year, was won by a Cameroonian entrepreneur bringing positive change to the international agrifood sector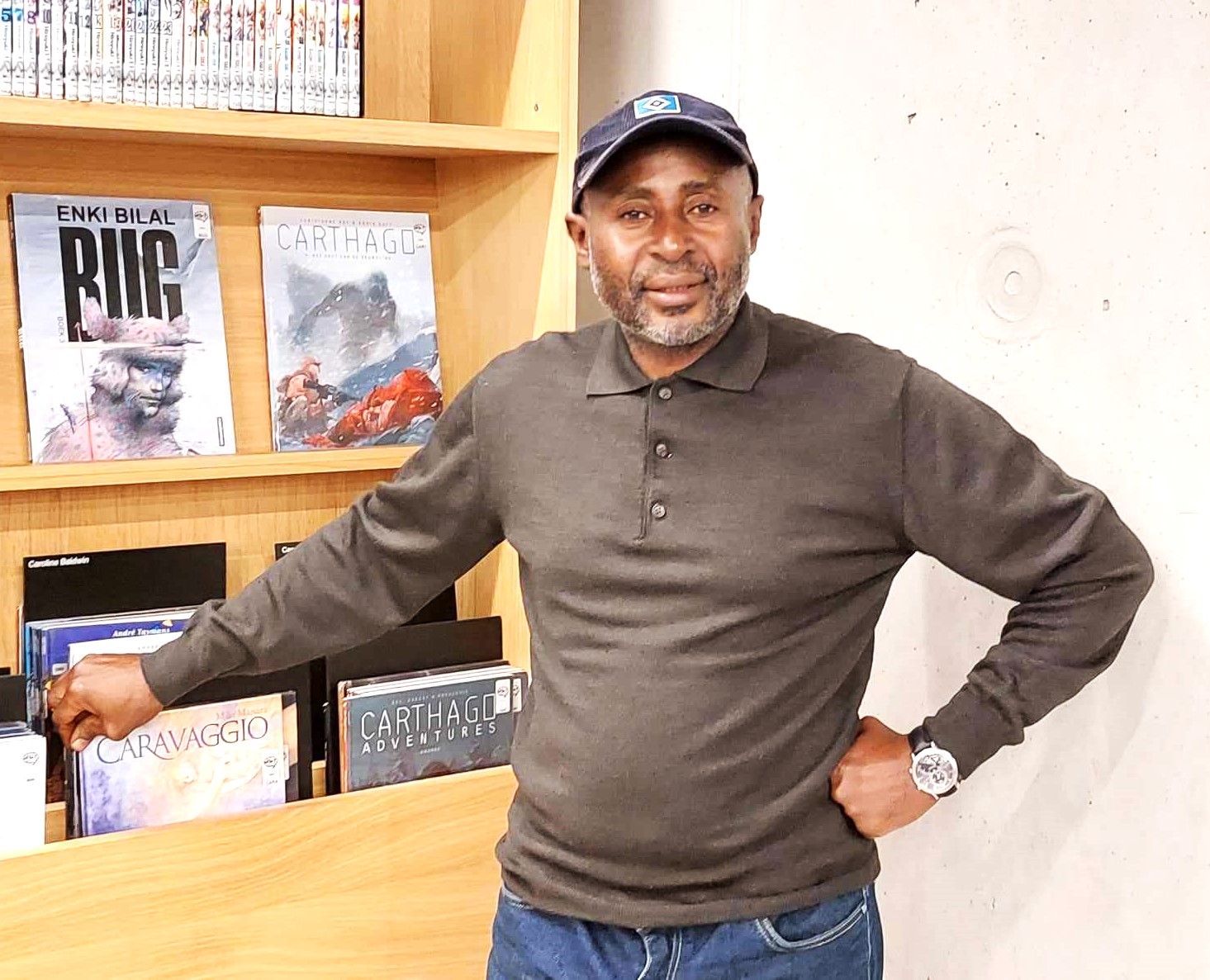 Entrepreneurship is intwined in the migration narratives of African Diasporas. If one needs proof, then Mr. Cyril Sanjoh's journey is enlightening and inspirational.
Born in Cameroon into a family of entrepreneurs, Cyril's father was a successful trader and serial entrepreneur. Cyril keenly points out that he is from the business oriented Bamileke ethnic group. So, his interest in entrepreneurship should come as no surprise. Although entrepreneurship has always been part of his life, being an African Diaspora entrepreneur in Europe came with more challenges peculiar to Cyril's circumstances and environment.
In 1992, Cyril moved to Germany to study agronomy. He had the intention to return home to Cameroon after his studies. So he started working part time and embarked on different entrepreneurial projects in Germany. First he began exporting consumable goods from Europe to Kumba in Southwest Cameroon. Soon this business was expanded to include the sales of second-hand tyres, electronics, a laundry service, cement store and a multi-purpose business centre, which also provided communication services to the community. Unfortunately, like most diaspora entrepreneurs relying on others to run their businesses back home, some of these lines of business became unsustainable due to mismanagement.
Undeterred, Mr. Sanjoh relocated from Germany to Belgium, and began looking for opportunities of employment and entrepreneurship. He took what he intended to be a temporary job, with an international courier company. However, what was supposed to be temporary, became a 20-year long career working nights. Cyril also worked as a delivery driver during the day to fund his entrepreneurial aspirations. He was very intentional in his career goals because he wanted to have enough resources to provide for his family and to start off new business ventures in Cameroon.
While working for the courier company, Cyril was able to open the first African food shop in Denderleeuw, East Flanders, called Dender Afrika. Due to personal and career challenges, he sold the shop but took this setback as an opportunity to re-strategize.
Upon consulting with different people within his network, he became convinced that a business in the agrifood sector was the right path for him. As a child, he was always interested in farming and plants. Although his father was not a farmer, he liked going to the farm with an uncle who was one.
In Belgium, growing vegetables in his garden became a fond hobby. Cyril found the time spent in his garden relaxing and therapeutic. Gardening also provided him the opportunity to learn more about growing different crops. He was always curious about what his neighbors and nearby farmers were growing and would often ask them questions about the vegetables, crops, and plants in their gardens and farms.
Having made the decision to delve into farming in Cameroon, Sanjoh still felt it was important to discuss with other Cameroonian diasporas in his network (especially those that already owned farm lands) and other trusted people from his community back home. According to Cyril, all these deliberations helped him make an informed decision about the farm's location. He chose the South Western region of Cameroon to be a suitable place for his farm.
Having already bought the land for his personal residence in the region close to the sea. It was easy to choose a nearby location for the farm. Moreover, this location with its fertile, volcanic soil, suited his plans for organic farming. Although initially, he did not plan to have a farm of more than 20 hectares, but Cyril ended up buying over 100 hectares of land in the Idenau municipality and divided the land into three farming projects.
In 2011 he bought 100 hectares of land in Sanje. This farm has 11 hectares of Palm trees, 2 hectares of Plantain and tree crops including Bitter kola and Kola nuts. Idenau (bought in 2014) is about 15 hectares in total, 2 hectares each of which are dedicated to growing Cocoa and white Pepper, 10 hectares for growing Plantain, and the rest of the farm is used to grow a variety of crops including Bush Mangos, Soursops, Oranges, Lemon, Mandarin, Avocados, Safou, Moringa, Njangsang, Coconuts, Chili Pepper,and Macabo coco. Finally, the third project, Njonji (bought in 2017), is about 2 hectares of land and houses 55 Cattle and 7 Sheep. Cyril employs 10 full-time staff, of which 4 are women, and also hires temporary workers seasonally, based on the corresponding workload.
Registered in 2014 as a Common Initiative Group (CIG) under the name Sansusa, Sanjoh Farms is dedicated to mixed organic crop cultivation, livestock production, and sustainable transformation. They supply their palm nuts to a state-owned agricultural cooperative named CDC, and has a mill where they process some of the palm nuts to palm oil, which is sold in the local market.
Sanjoh Farm's mission is to produce organic products that are sold to hotels, restaurants, local customers and international markets at a fair price, thus enabling the farm to provide the workers with sufficient income. Their vision is to create a sustainable integrated organic farm that processes and directly sells all of it's crops and livestock products to consumers and end users.
Sanjoh Farms has direct impact in the local communities by creating jobs, reducing poverty, providing healthy food to the population, and helping to raise community awareness of sustainability and environmental issues. The farms activities also focus on environmental impact by improving the soil, air and water quality, both on the farms and in the wider environment.
Although Sanjoh farms still face some infrastructural challenges including having good transportation service, farm roads and accessing the premium markets directly, Cyril is undeterred by all these. As he stated "We intend to begin a transformation as our production grows, and from there we can apply for certifications. We are presently actively looking for markets, both national and international'
You can learn more about Sanjoh Farms on Instagram @sanjoh_farms or on Facebook – Sanjoh Organic Farms. Alternativey, you can contact Mr. Cyril Sanjoh directly via email at This email address is being protected from spambots. You need JavaScript enabled to view it. or by phone at +32 477 099 018. The Foodbridge vzw invites you to meet Mr. Cyril Sanjoh and the nominees for the 2023 African Diaspora Agrofood Entrepreneurs award, at the upcoming African Diaspora Agrofood Forum #ADAF2023, on October 21st, 22nd and 23rd 2023 at the historic Gare Maritime Tour and Taxis in Brussels.
The Helping Hand Project
In collaboration with Kwabre Ne Sekyere Belgium,Mfantesman vzw,Voice of Women International, Kente FM and other African organizations, we are organizing "The Helping Hand project",is an action started in 2016, aimed at feeding the homeless in the Brussels area. We are in need of volunteers to help with the cooking, packing and distribution of food to the homeless and needy. We are also still looking for sponsors for this project. We do not accept funds but prefer sponsorship in the form of donations of desired food items, food packaging materials. if you are interested in giving a helping hand, contact us on This email address is being protected from spambots. You need JavaScript enabled to view it.