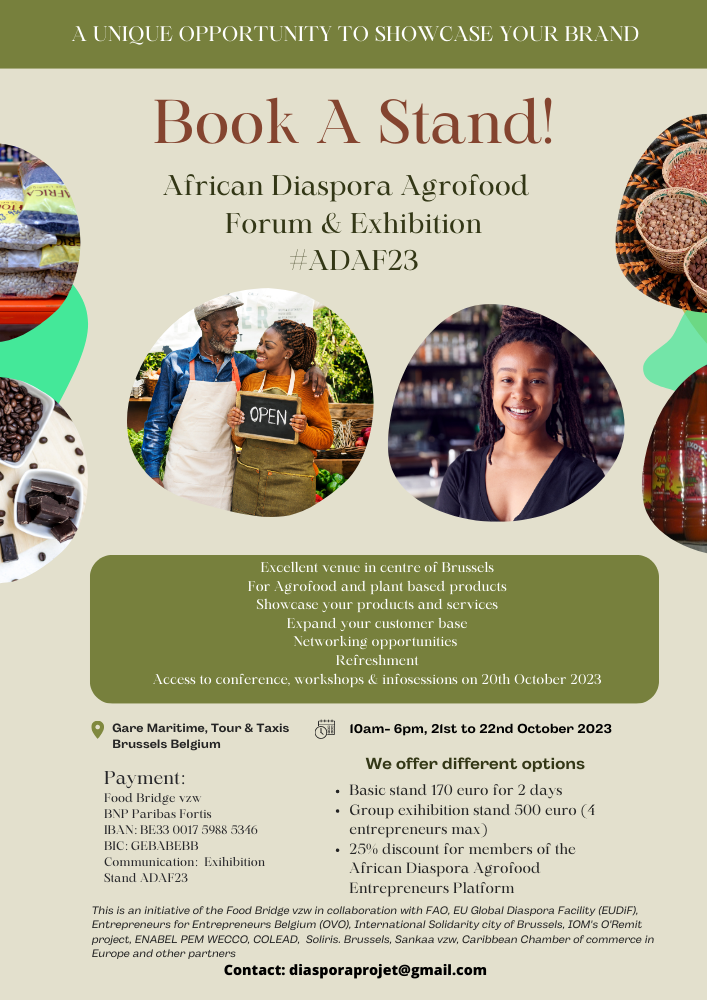 Since it's first edition, the African Diaspora Agrofood Forum focused on bringing together individuals, businesses, and organizations from the African diaspora and the agrofood industry.
As the profile of the forum has grown over the years, we have worked hard to provide a long term vision of African diaspora entrepreneurship and compelling reasons why entrepreneurs in the agrofood sector should consider participating and exhibiting at such a forum.
There are many benefits to be gained from participating and exhibiting at this 7th edition of the forum, for members of the African diaspora and their partners.
Markets Access and Business Opportunities: The forum provides a unique platform to connect with potential partners, customers, and investors within the agrofood sector. Being at the event can open doors to new markets and business opportunities, especially in Europe and also Africa where the agrofood sector holds significant growth potential.
Networking and Collaboration: Participating and exhibiting at the forum allows entrepreneurs to network with others active in the agrifood sector. These connections can lead to valuable collaborations, knowledge sharing, and access to industry insights.
Showcasing Innovations: For entrepreneurs with innovative agrifood products or services, exhibiting at the forum will enable them to showcase their work to a relevant and engaged audience. This exposure can help generate interest and brand recognition.
Access to the African Diaspora Community: The forum is specifically targeted towards the African diaspora in Europe, which presents an opportunity for entrepreneurs to engage with this influential community. This audience have a keen interest in development and entrepreneurial projects in Africa. Thus investing in or supporting businesses that have a positive impact on Africa's agrofood sector will be of interest.
Learning and Professional Development: During the two days of exhibition there will be side events including panel discussions, workshops, and presentations from industry and development experts. Exhibitors can attend these sessions to gain valuable insights, knowledge, and skills that can benefit their businesses.
Brand Visibility and Publicity: Exhibiting at the forum can increase the visibility of an entrepreneur's brand, products and services. All exhibitors will be include in brochure which will be widely shared in our network and also by our partners.
Non members of the African Diaspora interested in exhibiting at the event, should contact This email address is being protected from spambots. You need JavaScript enabled to view it. or This email address is being protected from spambots. You need JavaScript enabled to view it.
The Helping Hand Project
In collaboration with Kwabre Ne Sekyere Belgium,Mfantesman vzw,Voice of Women International, Kente FM and other African organizations, we are organizing "The Helping Hand project",is an action started in 2016, aimed at feeding the homeless in the Brussels area. We are in need of volunteers to help with the cooking, packing and distribution of food to the homeless and needy. We are also still looking for sponsors for this project. We do not accept funds but prefer sponsorship in the form of donations of desired food items, food packaging materials. if you are interested in giving a helping hand, contact us on This email address is being protected from spambots. You need JavaScript enabled to view it.