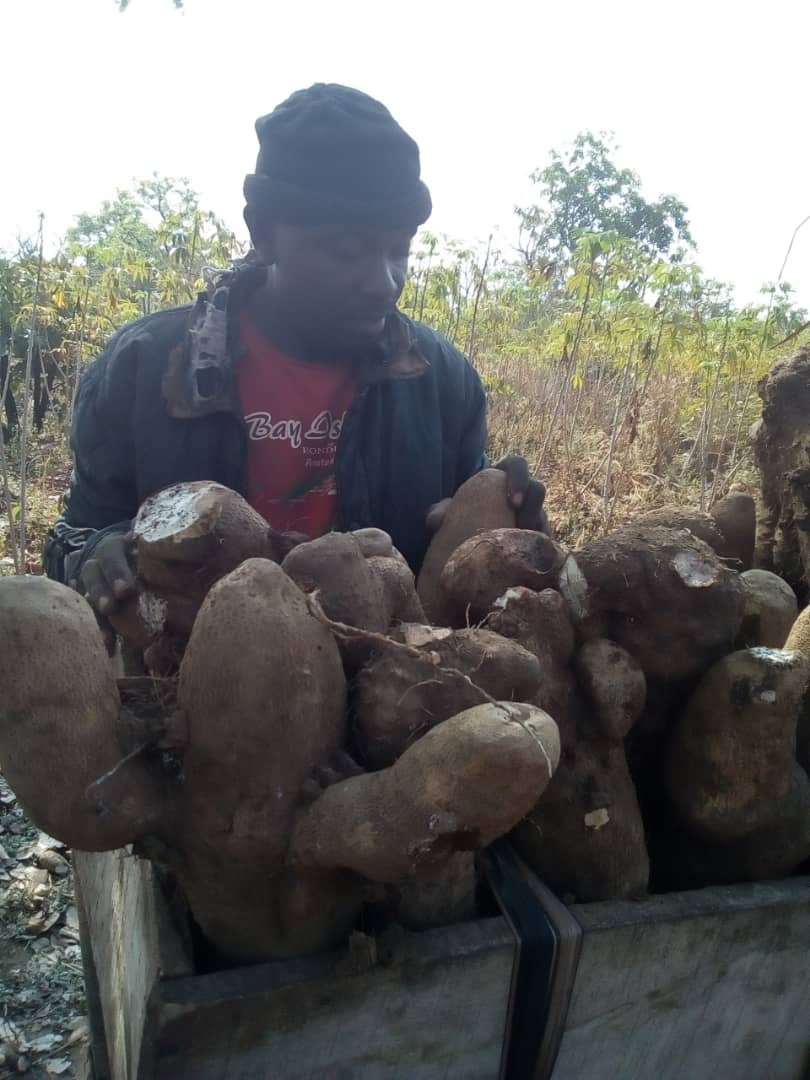 One of the yam farmers in Oturkpo in Benue State Nigeria. Picture credit Faith Abah, coordinator North Central Nigeria.
2020 was a challenging year for everyone but it was also a year many showed resilience; giving support when and where it was needed most. The Food Bridge vzw is grateful for the opportunities 2020 brought; enabling us to support agrofood entrepreneurs and still provide food to those that needed help .
Despite the challenges of 2020, we were able to organize different seminars for agrofood entrepreneurs, the Humanitas Project, the 2020 African Diaspora Agrofood Forum, FoodcationBXL, a succesful campaign under the Helping Hand project, a Food Santa campaign and also complete the second phase of our Food Heritage Project.
One of the objectives we will focus on more in 2021, is economic empowerment through agrofood entrepreneurship. Having completed the second phase of the Food Heritage Project, which supports rural African farmers to grow nutritious crops, we want to create a direct link between the farmers and the consumers. Covid 19 is a challenge but highlighted the need for healthy food especially plant based food. Thus we want to insure these crops and plants reach more consumers. With the expansion of the project to include more farmers, our target this year is to grow more crops including those that are alternative sources of protein. There is also a need for more collaboration with universities near our project to help with scientific authentication of some crops. However the universities have limited funds to collaborate on such an action, without funds from us.
The trial phases provided us an opportunity to understand the challenges these farmers encounter daily, which range from farming inputs to having adequate resources for their families. Hence accessing premium markets is a target for 2021. We hope to connect these rural farmers to consumers in local and international markets. To achieve these, basic digital tools and skills are a necessity, so we provided some of the farmers with mobile phones to enable them communicate effectively and also follow trainings via Whatsapp. The communication between the coordinators and the farmers have improved tremendously since they received the phones.
We are also continuing the support for the education of some of the farmers' children, by paying school fees, buying books and school uniforms. We are proactively looking for sponsors for some of these students.
With the farmers' improved source of income through this project, the positive impact reflects on the community too. A major challenge we foresee in 2021 is funding for the project. We welcome donations of funds, mobile phones and school materials.
You can make a donation to ;
The Food Bridge vzw
BNP Paribas Fortis
IBAN: BE33 0017 5988 5346
BIC: GEBABEBB
The Helping Hand Project
In collaboration with Kwabre Ne Sekyere Belgium,Mfantesman vzw,Voice of Women International, Kente FM and other African organizations, we are organizing "The Helping Hand project",is an action started in 2016, aimed at feeding the homeless in the Brussels area. We are in need of volunteers to help with the cooking, packing and distribution of food to the homeless and needy. We are also still looking for sponsors for this project. We do not accept funds but prefer sponsorship in the form of donations of desired food items, food packaging materials. if you are interested in giving a helping hand, contact us on This email address is being protected from spambots. You need JavaScript enabled to view it.