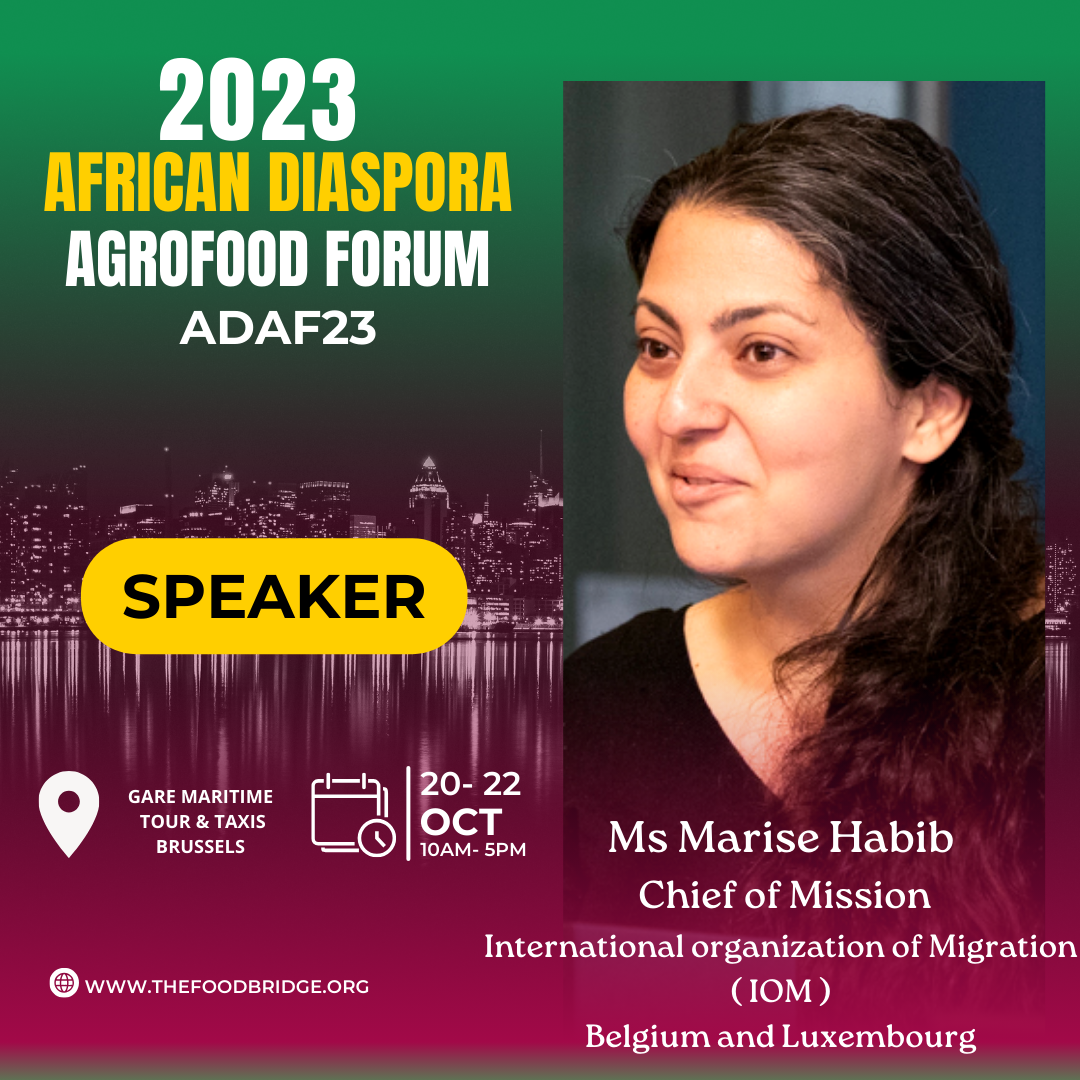 For many African nations achieving the Sustainable Development Goals especially number 2 ,Zero Hunger, is still a major challenge. Thus a multi- stakeholder approach is needed to address this and other development challenges in Africa. For the 2023 African Diaspora Agrofood Forum, we will start the opening session with a panel focusing on policymaking and diaspora Engagement. The aim is to highlight the importance of having the right policies and the role of policymakers in facilitating the input of African dasporas in the development of Africa.
This will be an informative, inspirational and interactive opening session of the 2023 African Diaspora Agrofood forum. Among the panelists of this opening session are ;
Her Excellency Tokozile Xasa, Ambassador of South Africa to Belgium,
Mr Raschad Al-Khafaji, Director FAO Liaison Office with the European Union and Belgium,
Ms Marise Habib, Chief of Mission, International Organization of Migration (IOM) for Belgium and Luxembourg
His Excellency, jean-Omer BERIZIKY Ambassador of Madagascar
Ms Lydia Mutyebele, Alderwoman Housing, Patrimony and Equal opportunities, city of Brussels.
Mr Kwaku Boamah, President Sankaa vzw and Founder COLISO Ghana.
As part of this opening session , Mr Ralph Genetzke, Director at International Centre for Migration Policy Development (ICMPD) Brussels, will also present the 2023 Compendium Of African Diaspora Agrofood Entrepreneurs, published by the Food Bridge in partnership with EUDIF, a program of ICMPD.
Registration is still open via - https://www.eventbrite.com/e/7th-african-diaspora-agrofood-forum-tickets-662976680097
The Helping Hand Project
In collaboration with Kwabre Ne Sekyere Belgium,Mfantesman vzw,Voice of Women International, Kente FM and other African organizations, we are organizing "The Helping Hand project",is an action started in 2016, aimed at feeding the homeless in the Brussels area. We are in need of volunteers to help with the cooking, packing and distribution of food to the homeless and needy. We are also still looking for sponsors for this project. We do not accept funds but prefer sponsorship in the form of donations of desired food items, food packaging materials. if you are interested in giving a helping hand, contact us on This email address is being protected from spambots. You need JavaScript enabled to view it.