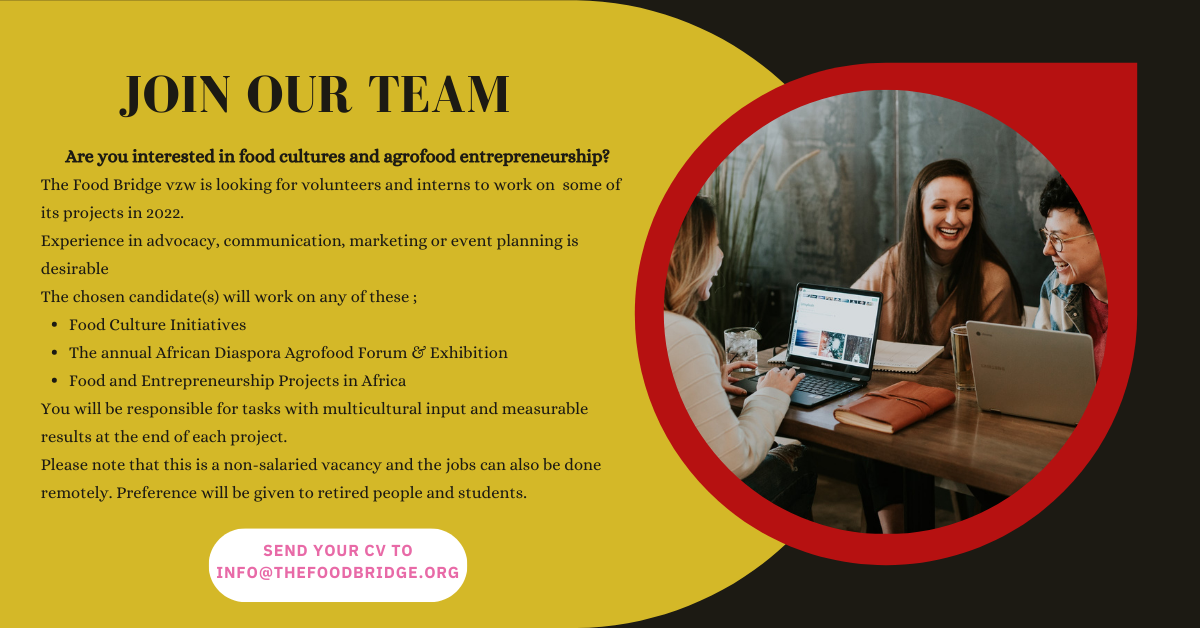 The Food Bridge vzw is looking for volunteers and interns to work on some of its projects in 2022.
Experience in advocacy, communication, marketing or event planning is desirable
The chosen candidate(s) will work on any of these assignments;
Food Culture Initiatives

The annual African Diaspora Agrofood Forum & Exhibition

Food and Entrepreneurship Projects in Africa
You will be responsible for tasks with multicultural input and measurable results at the end of each project.
Please note that this is a non-salaried vacancy and the jobs can also be done remotely. Preference will be given to retired people and students.
For inquiries or application contact - This email address is being protected from spambots. You need JavaScript enabled to view it.
The Helping Hand Project
In collaboration with Kwabre Ne Sekyere Belgium,Mfantesman vzw,Voice of Women International, Kente FM and other African organizations, we are organizing "The Helping Hand project",is an action started in 2016, aimed at feeding the homeless in the Brussels area. We are in need of volunteers to help with the cooking, packing and distribution of food to the homeless and needy. We are also still looking for sponsors for this project. We do not accept funds but prefer sponsorship in the form of donations of desired food items, food packaging materials. if you are interested in giving a helping hand, contact us on This email address is being protected from spambots. You need JavaScript enabled to view it.