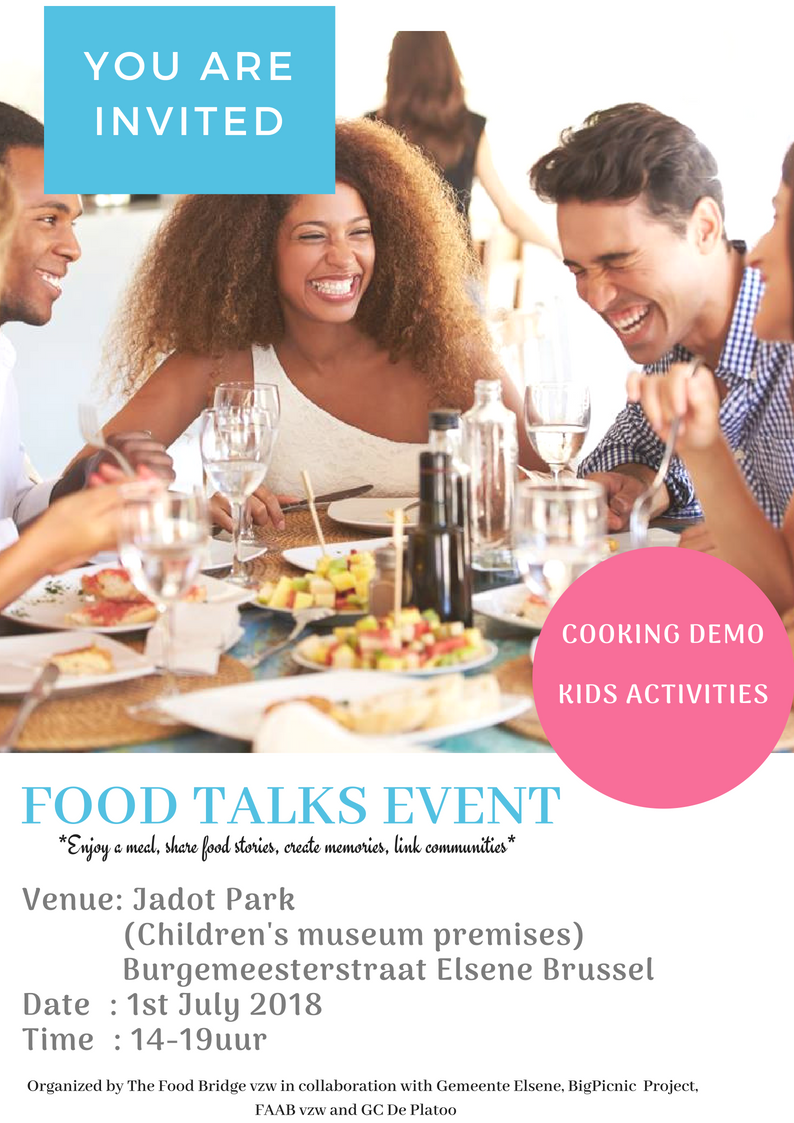 The Food Bridge vzw in collaboration with Gemeente Elsene Brussel, BigPicnic Project, FAAB vzw, GC De Platoo and other associations, invites you to the 'Food Talks' event.
The concept of the " Food Talks" is to use cultural tools for community building in an urban space. Food is one commonality in every society with the ability to convey and reinforce group identity. At the same time, food is flexible enough as a tool of cultural engagement and interaction. This is a feat that is not achievable with politics or religion in the current urban space.
At the event, we invite people to cook together, share a meal, recipes or food stories. Interested participants can bring a dish or bread that is unique to their food culture.
We also have interesting activities for children. This will be an ideal summer fun for families too.
For more details contact
The Food Bridge vzw -
This email address is being protected from spambots. You need JavaScript enabled to view it.
This email address is being protected from spambots. You need JavaScript enabled to view it.
The Helping Hand Project
In collaboration with Kwabre Ne Sekyere Belgium,Mfantesman vzw,Voice of Women International, Kente FM and other African organizations, we are organizing "The Helping Hand project",is an action started in 2016, aimed at feeding the homeless in the Brussels area. We are in need of volunteers to help with the cooking, packing and distribution of food to the homeless and needy. We are also still looking for sponsors for this project. We do not accept funds but prefer sponsorship in the form of donations of desired food items, food packaging materials. if you are interested in giving a helping hand, contact us on This email address is being protected from spambots. You need JavaScript enabled to view it.